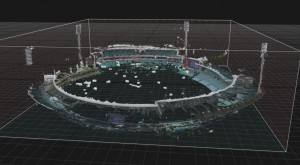 Progress from 3D photogrammetry of the SCG, using 360 video and standard DSLR photography.
Mapping the architectures of the stadium is important to determine how the structure amplifies/effects the crowd's intensity.
Still experimenting with process and techniqes right now, but I'm encouraged by these results so far!
Thanks to Dr. Andrew Yip from iGlam UNSW for his expertise!